Santa Margarita Catholic High School
|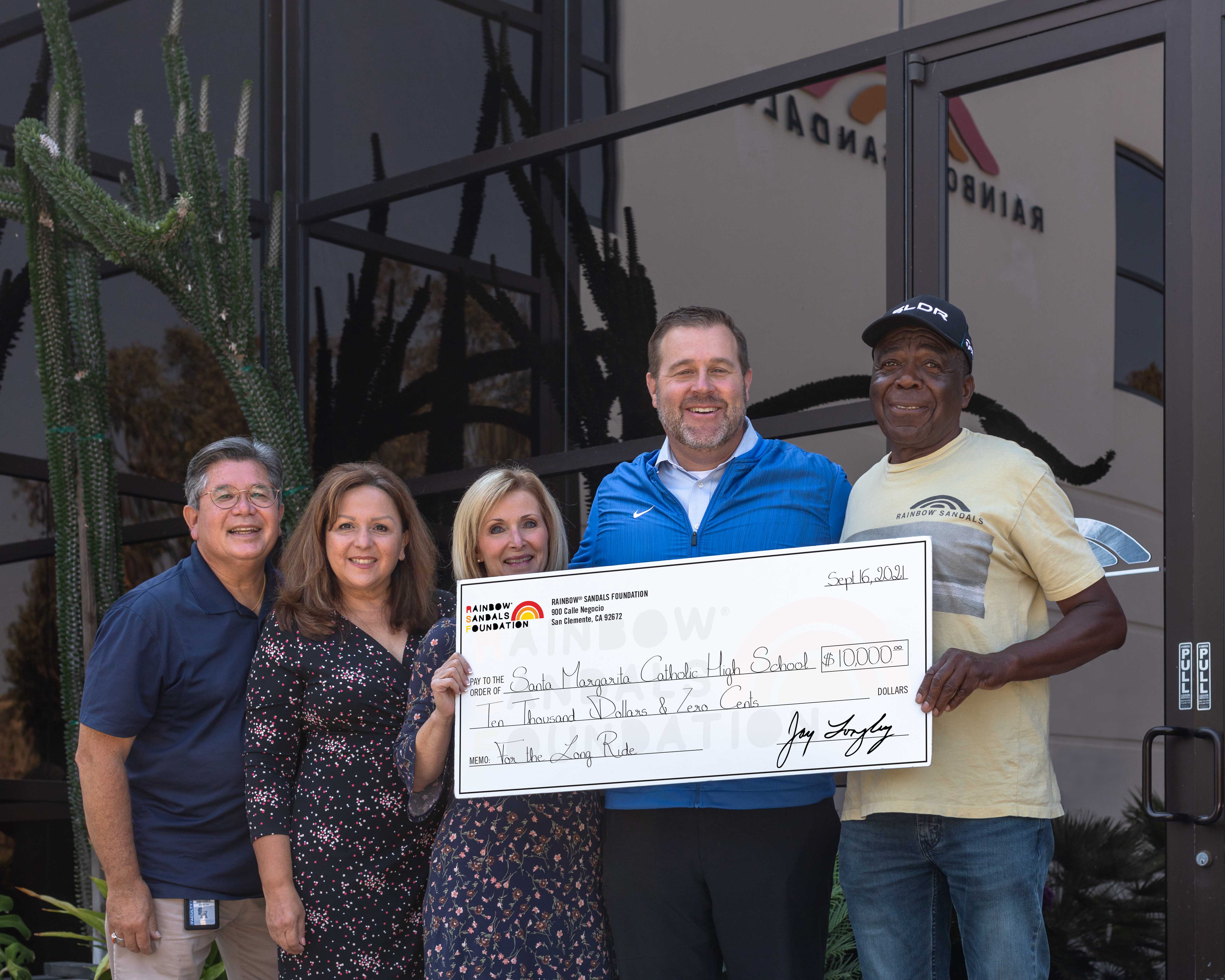 Rainbow Sandals Foundation recently donated $10,000 to Santa Margarita Catholic High School. Below where the donation will be used
WELLNESS PROGRAM
The new SMCHS wellness program and resource center is a comprehensive initiative that provides a range of resources and referrals to support students and their families in meeting the challenges of adolescence through prevention, early-intervention and education. A multi-tiered system of support addresses wellness through collaboration with the school's campus ministry, activities, nursing, and counseling departments; community partnerships; parent and student education; one-on-one and group counseling and crisis intervention.
As a result of overwhelming support through the school's Blue and Gold gala, Eagle Fund and some generous donors, Santa Margarita Catholic High School expanded its wellness program. Highlights include: CARITAS CHRISTI EAGLE WELLNESS CENTER: Located on the first floor of the G building and reopening in mid-October, the center was redecorated and redesigned for students with student input. The center is the new integrated home of campus ministry, activities and the wellness program, allowing SMCHS to best serve the well-being of its students.
CHOC CHILDREN'S HOSPITAL RESOURCE SPECIALIST LINE: Offered at no cost for all SMCHS families, this service supports parents seeking qualified and reputable professional mental health resources for their children.
LEADERSHIP: SMCHS has appointed Joy Cleary, a licensed clinical social worker (LCSW) who holds a Pupil Personnel Services Credential (PPSC), to oversee the school's wellness program as the director of wellness. Joy works alongside Wellness Coordinator Susan Sansour, licensed marriage and family therapist (LMFT), and Wellness Counselor Jessica McHonett, M.Ed.
HEALTH SEMINAR COURSE: Along with the traditional physical health curriculum, the semester-long freshman health course will now cover lessons on wellness-related topics such as growth mindset and healthy relationships, executive functioning skills, and the importance of the school's Catholic identity.
TRUSTED COMMUNITY PARTNERSHIPS: Developed affiliations with CHOC, Our Lady Queen of Angels Mental Health Ministry, St. Ignatius College Preparatory, Harvard's Making Caring Common Project and Stanford's Challenge Success.