Fish for Life
|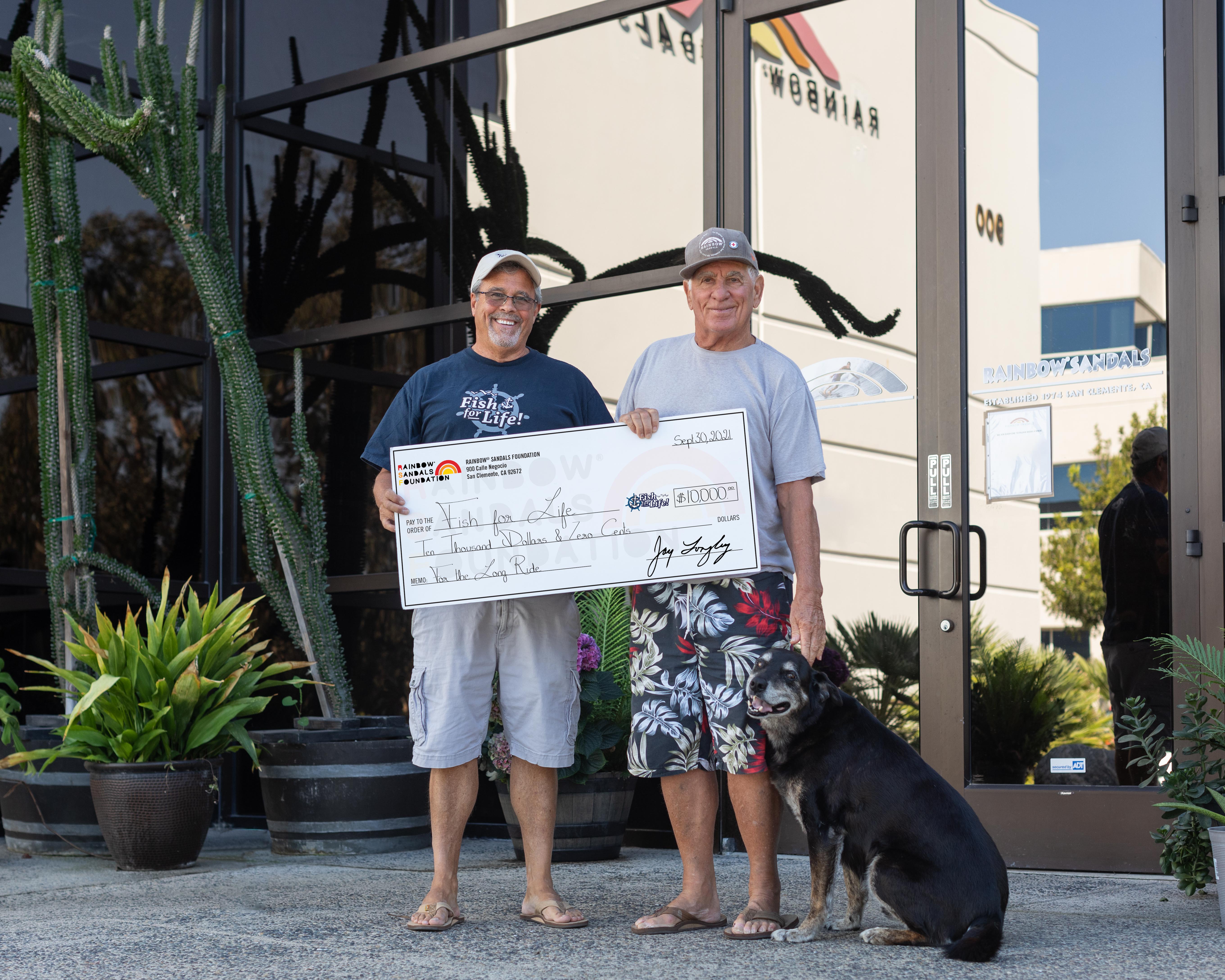 Sept, 30, 2021 Rainbow® Sandals Foundation donated $10,000 to Fish for Life, a wonderful non-profit that helps special needs children and their parents' ocean fishing......in grand style. 
Learn about Fish for Life from their Founder / CEO Jim Holden:
 We are so very grateful for the continued support from Rainbow Sandals to help us serve more children.   Since our inception in 2010, we have served over 1500 special needs kids. 
Fish for Life trips make a tremendous therapeutic impact with our special needs honored guests, chaperones, and all our loving volunteers. 

Here's a 1-minute video to give you a feel for the program: Click HERE
  Our home port is the Dana Wharf, and our Mother Ship is the 95ft "Dana Pride."  Fish for Life has expanded to the East Coast with 3 trips this past summer from Wildwood Crest, New Jersey, under the leadership of Jesse Gemberling-Johnson. Next year we are expanding to Pompano Beach, Florida, and Oahu, Hawaii.
The model is consistent in all locations, with 100 people aboard each voyage that includes 30 special needs kids, 30 chaperones & 40 volunteers.
There are many details aboard our 3/4 day trips that create lifetime memories for all involved.
 Here are a few highlights:
• The day begins with an Opening Ceremony that includes Speakers, a Prayer, the National Anthem & RED CARPET INTRODUCTIONS. • Fishing Team Leaders are assigned children to care for throughout the day and teach them to fish. • Non-Special Needs Kids serve appetizers before and after a buffet-style lunch. • We fly kites on the way to the fishing grounds • Kids & Parents enjoy our infamous "Boot Trick" • We have a line dance three times around the deckled by kids playing Maracas, a Tambourine, and an Accordion.  • Guests enjoy a surprise visit by a safety diver then a real live MERMAID! • We have award ceremonies as we head back to dock, where the kids receive an award and have a chance to express themselves. • As we enter the harbor, we learn a PIRATE tied up the MERMAID, and we then pass out water guns for the kids to teach him a lesson as we dock.
Bringing Dignity, Inclusion, and New Possibilities to special needs children
For more information contact: Jim Holden Founder / CEO (949)285-8819 www.fishforlife.org "Spreading the Love one boat at a time!"