WildCare's Zeva Longley Family Adventure | Trip #1
|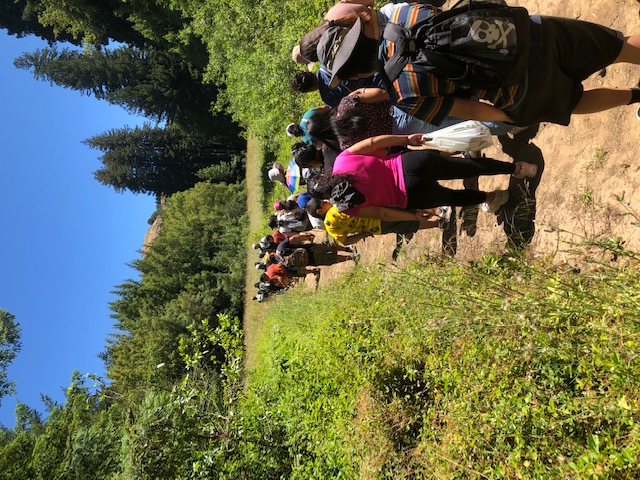 On June 11th, WildCare held their 1st Zeva Longley Family Adventure, which took a group of 32 people hiking through Roy's Redwoods. All families arrived on a bus from Bahia Vista Elementary School.
New in 2022, Wildcare's Zeva Longley Family Adventures are made possible through the Zeva Longley Scholarship for Nature Education. These adventures bring families from the Canal District in San Rafael outside on fun family outings in Marin's parks and open spaces. The goal is to make the outdoors a safe and welcoming place for all, and these hikes are full of discovery and learning for the whole family. This amazing free program is made possible through the Rainbow® Sandals Foundation.  For more information go to www.discoverwildcare.org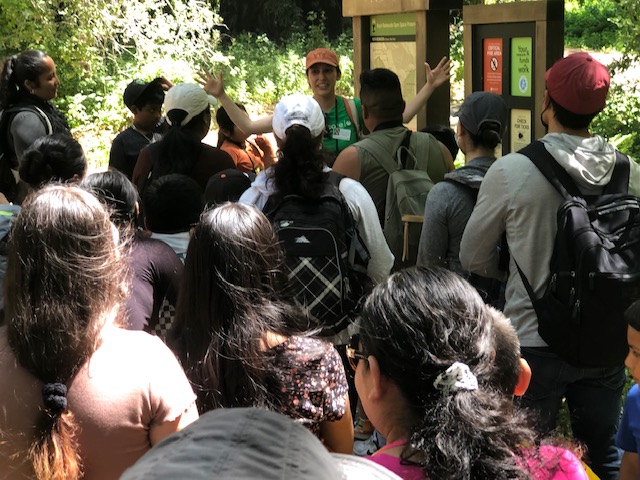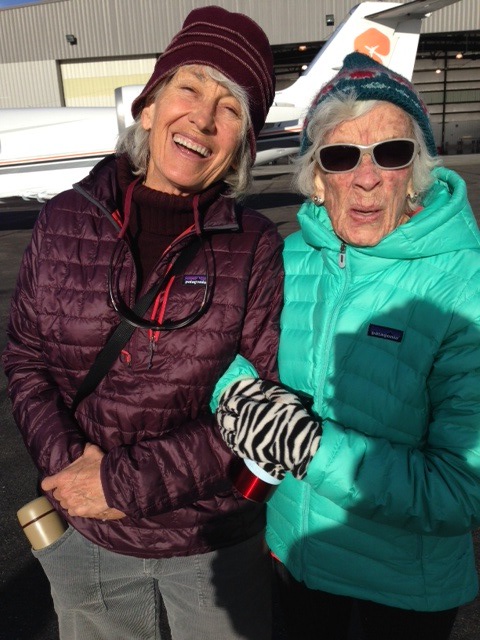 Pictured: Zeva & Beatrice Longley
Zeva Longley (1946 - 2020) was a passionate and renowned environmental educator, activist and artist. WildCare awarded her the Terwilliger Environmental Award in 2005, but her intersection with WildCare came decades before. Zeva met Elizabeth Terwilliger ("Mrs. T") in the 1970s and said of the meeting, "I fell in love with her and the nature she loved, and since that time have dedicated myself to learn more about the earth and my connection to the earth, and to teach what I learn." Zeva worked at Community Action Marin's Canal Child Care Center for over 25 years and created their innovative Environmental Education Program. Three times a week, she took children, many of whom had rarely ventured from the urban setting of their own neighborhoods, out to the beach, the woods, the marshes, reservoirs, and hills of the Bay Area, In addition to facts and information, Zeva's curriculum promoted scientific investigation, responsible stewardship, teamwork, connection and compassion. In honor of her work for under-represented populations in San Rafael's Canal District, Zeva received the Sierra Club's Hannah Creighton Environmental Justice Award. Zeva's deeply-felt connection to nature and animals was formed early. She grew up in Corona Del Mar, CA where she spent hours with her horse on the beach, exploring the wild shoreline. The feeling of freedom and joy from unstructured time in nature at a young age is what Zeva would grow up to share with children and families through her work at the Canal Childcare Center. Zeva raised her daughter, Alicia House, without a TV at home. Instead, they spent time outdoors together, on Mt. Tamalpais, exploring nature and observing wildlife. She instilled in her daughter the importance of play, beauty and freedom. Today, Alicia works as a theater director and teacher, and her mother's values are woven into the fabric of her work. To continue her mother's legacy, Alicia spearheaded the creation of a scholarship program at WildCare in collaboration with Zeva's brother and fellow nature enthusiast, Jay "Sparky" Longley. A generous donation has been made from Rainbow® Sandals Foundation to create The Zeva Longley Scholarship Fund that will connect children and their families who reside in San Rafael's Canal District with the natural world through WildCare's education programs.