PROPOSITION_65
The State of California enacted The Safe Drinking Water and Toxic Enforcement Act of 1986, commonly referred to as "Proposition 65". Proposition 65 is a far-reaching law, and applies to any company that sells products to California consumers.
Proposition 65 requires warning labels on any product that contains or may contain any of the over 800 chemicals that California's Office of Environmental Health Hazard Assessment considers harmful. Many of the chemicals listed under Proposition 65 have been routinely used in everyday consumer items for years without documented harm.
The penalties for not complying with Proposition 65 are steep. As a result of the steep penalties, Rainbow Sandals and many other manufacturers have elected to provide the Proposition 65 notice out of an abundance of caution.
You may have seen the following warning label on our products: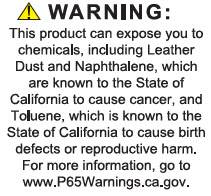 WARNING: Cancer and Reproductive Harm – www.P65Warnings.ca.gov.
We appreciate your concerns about the California Proposition 65 warning placed on our footwear. The label does not mean that our products will necessarily cause cancer or reproductive harm. While we believe our products are not harmful when used as designed, we provide the warning as a result of the California law.
For more information about Proposition 65, the chemicals that have been listed, and how these chemicals may impact human health, please visit the State of California's website at http://oehha.ca.gov/prop65/background/p65plain.html.